I get told this all the time but I am most definitely a lucky puppy. I have been awarded the Sunshine Award for my blog 3 times!! I was given the award by 3 lovely anipals with wonderful blogs of their own.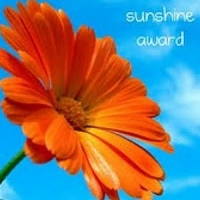 My most heart felt thanks to:
Groucho
http://grouchothewonderwestie.blogspot.com.au/2012/06/sunshine-award.html
Pixel
http://pixelblueeyes.blogspot.com.au/2012/06/joy-of-awards-friends-and-being.html
Dugal
http://www.3aussiecats.com/
Please check out their blogs.
As part of receiving this award I have to answer a few questions and pass on the award.
Favorite number:

I pick 1. For no reason.
Favorite Non-alcoholic drink:

Errr... is there more than one drink?? I've only ever had water! Mum!!!!
Facebook or Twitter:
Twitter. I don't have a Facebook account.
My Passion:

I have many passions that change all the time. A current passion is wallaby poo and another all time passion is my footy team Sydney Swans.
Favorite pattern:
I like pink love hearts.
Favorite Day of the Week:

I love Saturdays because even though Dad is usually at work, Mum is home with me.
Favorite Flower:
I love gerberas. (Like on the Sunshine Award!)There's always heaps of them around the house. Mum says they are happy flowers.
Now I have to pick some bloggers to pass this onto.
Here are some blogs that I love and bring sunshine into my day..
My new pal Bailey
http://baileyunleashed.blogspot.com.au/
Mr Bumpy who is my friend even though I'm a dog
http://not-to-be-taken-seriously.blogspot.com.au/
My whippet gal pals
http://katieandgrace.blogspot.com.au/?spref=tw
Garth Riley... his blog makes me smile
http://theworldaccordingtogarthriley.blogspot.com.au/
And some other blogs I love
http://janet-bassetmomma.blogspot.com.au/
http://theadventuresofhiggins.blogspot.com.au/
http://charmingchi.blogspot.com.au/2012/04/monday-mischief-food-before-fashion.html
Hope you enjoy these blogs like I do.